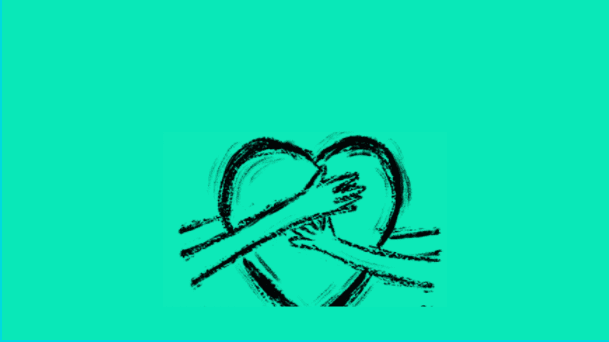 Gold Coast Support Services Guide
Drug & Alcohol Treatment Services
Have a look at Drug & Alcohol treatment services provided on the Gold Coast and related articles.
Taking Care of Your Mental Health
Have a look at articles and services that help you take care of your own mental health to live a happier more well balanced life.
Have a look at Mental Health services provided on the Gold Coast and related articles.
Accommodation, Financial & Food Support
Have a look at Accommodation, Finacial and Food support services provided on the Gold Coast and related articles.
Call 000 if it is an emergency
KIds Help Line 1800 551 800
Kids Helpline is Australia's only free (even from a mobile), confidential 24/7 online and phone counselling service for young people 5 to 25.
Qualified counsellors at Kids Helpline are available via WebChat, phone or email anytime and for any reason.
Mental Health Access Line 1300 642 255
1300 MH CALL. Is a service delivered by Gold Coast Mental Health Acute Care Team
providing support, information, advice, and referral. 24-hour Specialist Mental Health Care, 7 days a week
MensLine Australia is the national telephone and online support, information and referral service for men with family and relationship concerns. The service is available from anywhere in Australia and is staffed by professional counsellors, experienced in men's issues.
Helping Queenslanders find pathways to safety, away from domestic, family and sexual violence. DV Connect provide emergency transport and accommodation for your entire family including pets. They also provide safety planning, crisis counselling, intervention, information and referrals at no cost.
Alcohol and Drug Information Service 1300 177 833
24/7 support for people in Queensland with alcohol and other drug concerns. Experienced and skilled counsellors provide information for yourself, as well as family, friends and health care professionals. Support and treatment referral. Free & Confidentail.
Queensland Statewide Sexual Assault Helpline 1800 010 120
The Queensland State Wide Sexual Assault Helpline is a free, confidential service. This service is currently hosted by DVConnect, which also runs the Mensline Queensland. It is open 7.30am to midnight, 7 days.
Parents Line 1300 301 300
Provide free counselling and support for families and carers. Free and confidential. Available 8am-10pm. 7 days a week.
Suicide Call Back Service 1300 659 467
Provide phone and online counselling. A national support service that offers 24/7 support to people who are affected by suicide.
Download Posters and Brochures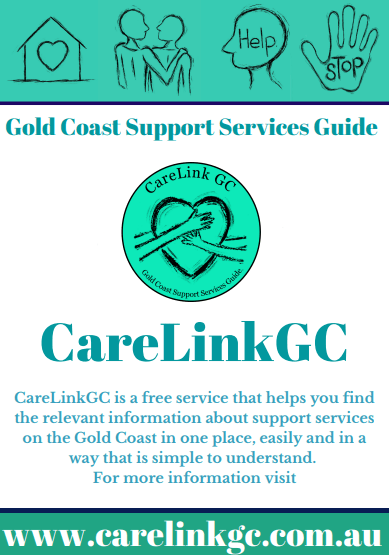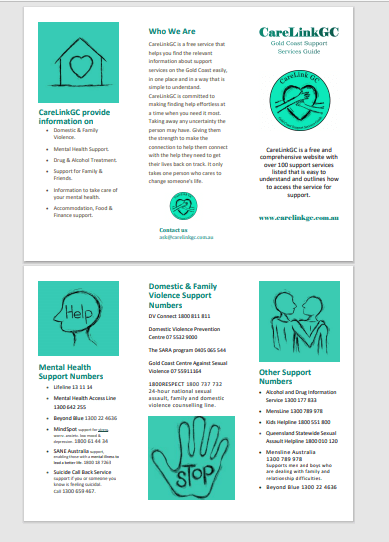 Print 2 sided on Short Edge
Website Currently Being Updated Frequently.

Please check back frequently for changes.
Finding the right support when you are struggling can be a confusing and often overwhelming experience. People often report that they are given the run around from one service provider to the next as they do not know what organisation provides which service on the Gold Coast. Even the names of these service providers can often add to the confusion. People become frustrated and give up hope. CareLinkGC is a free website service that helps you find the relevant information about support services on the Gold Coast easily and in a way that is simple to understand. We are committed to making finding help effortless at a time when you need it most.
Feel free to email us if you know of any support services that CareLinkGC should add to our support services guide.
If you would like us to send you business cards and brochures, please email us your details.
Help CareLinkGC reach more people for support.
If you believe that this service can help others please donate. Your support will enable CareLinkGC to continue to grow. With additional funds we will be able to enhance our internet footprint so that anyone who searches for help online will find our page and the supports listed on it. Our next project is to make short videos about the services, who they are and what they do so that people can make informed decisions about what service is best for them. Hopefully being able to see what a service is like will make people less fearful to reach for support. As we grow we would also like to include more support services for men, youth support services, multicultural support services and parenting support services.